SENSITIVE SKIN (Eczema, Psoriasis, Dermatitis) SOLD SEPARATELY
Regular price

Sale price

$20.00 USD
THIS COLLECTION OF PRODUCTS IS PERFECT FOR THE FACE OR FOR EXTREMELY SENSITIVE OR DELICATE SKIN.
Sensitive skin? Need a Miracle? We got you! 
Miracle Butter Cream's Sensitive Skin Formulas have been painstakingly crafted and specially formulated for those who suffer from irritated scalp, eczema, rosacea, dermatitis, psoriasis, skin rash, and allergies. Extremely sensitive skin is the result of the skin's natural barrier function being compromised, causing water loss, which allows the penetration of irritants. Exposure to sun and certain cosmetics and cleaners can worsen skin sensitivity. 
Check out the products from this collection:  
Body Butter, Body Oil , Facial Oil, Soap &  Deodorant 
Unscented / Fragrance Free Miracle Butter Cream body butter is perfect for moisturizing the face, body, and hair due to NO irritating scents, alcohol, or fragrances & comes in 6 different sizes:
Squeeze Tube (3oz.) $17

Small (4oz.) $20 

Medium (8oz.) $38

Large (16oz.) $56

Refill Pack (12oz) $36.50

Refill Pack (24oz.) $73 (This 24oz. size comes w/ wooden spoon)

Ceramic Tub (32oz.) $140 (Reusable Ceramic Tub w/ Bamboo Top)
Unscented/ Fragrance Free All Natural Soap - No Scent Castile. Our Castile soap is made the traditional way with 100% olive oil. It takes several months to cure properly, but is well worth the wait.  Carefully made from a very simple recipe, this is the most gentle soap we offer.  A bar that delivers a thorough clean and a wonderfully creamy lather. If you purchase the soap, do yourself a favor and grab the soap box HERE to store your bar.
Face/ Body Soap Bar $8.50
Unscented / Fragrance Deodorant. Fragrance Free/ Unscented for the most sensitive pits. Tackles the stink with no added scents. Does not contain aluminum, baking soda, or magnesium. 
Unscented / Fragrance Free luxury Body Oil for face, body and hair.
Glass Pump Oil Bottle (4oz.) $44

Plastic Squeeze Bottle (16oz.) $136
 ♦ Please check out our incredible REVIEWS on our website! ♦
Miracle Butter Cream Ingredients: Mango Butter, Cocoa Butter & Shea Butter, Coconut Oil, Jojoba Oil, Avocado Oil, Castor Oil & Grape Seed Oil 
Luxury Oil Ingredients: Non GMO Vitamin E Oil, Argan Oil, Marula Oil, Jojoba Oil, Avocado Oil, Abyssinian Oil, Castor Oil, Apricot Oil & Grape seed Oil
Share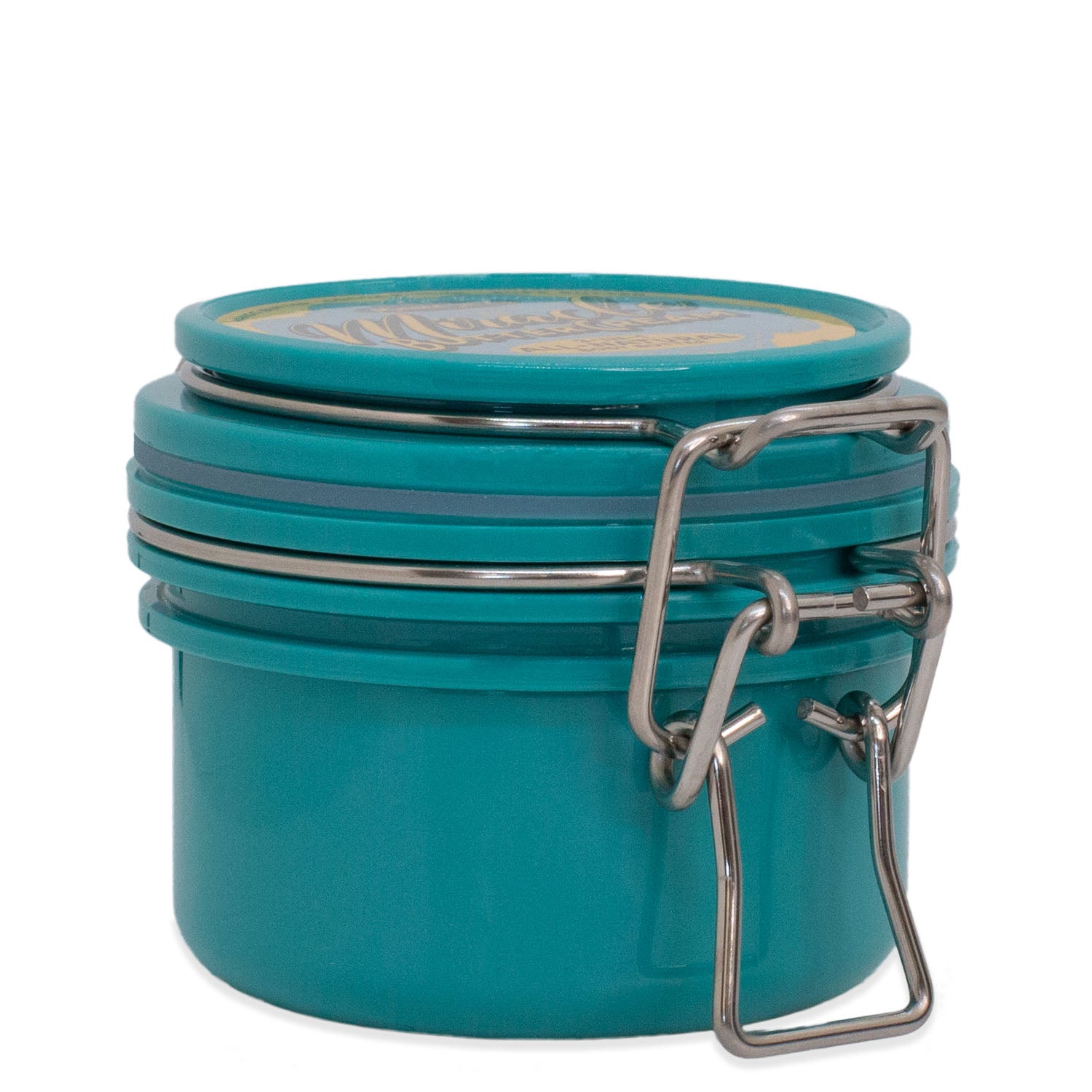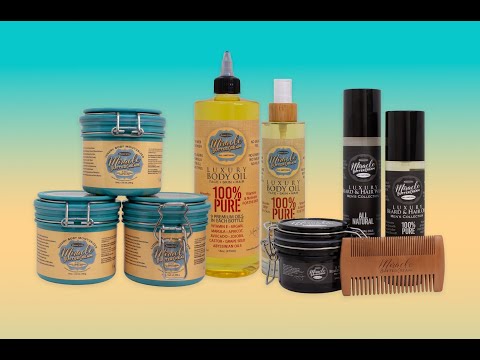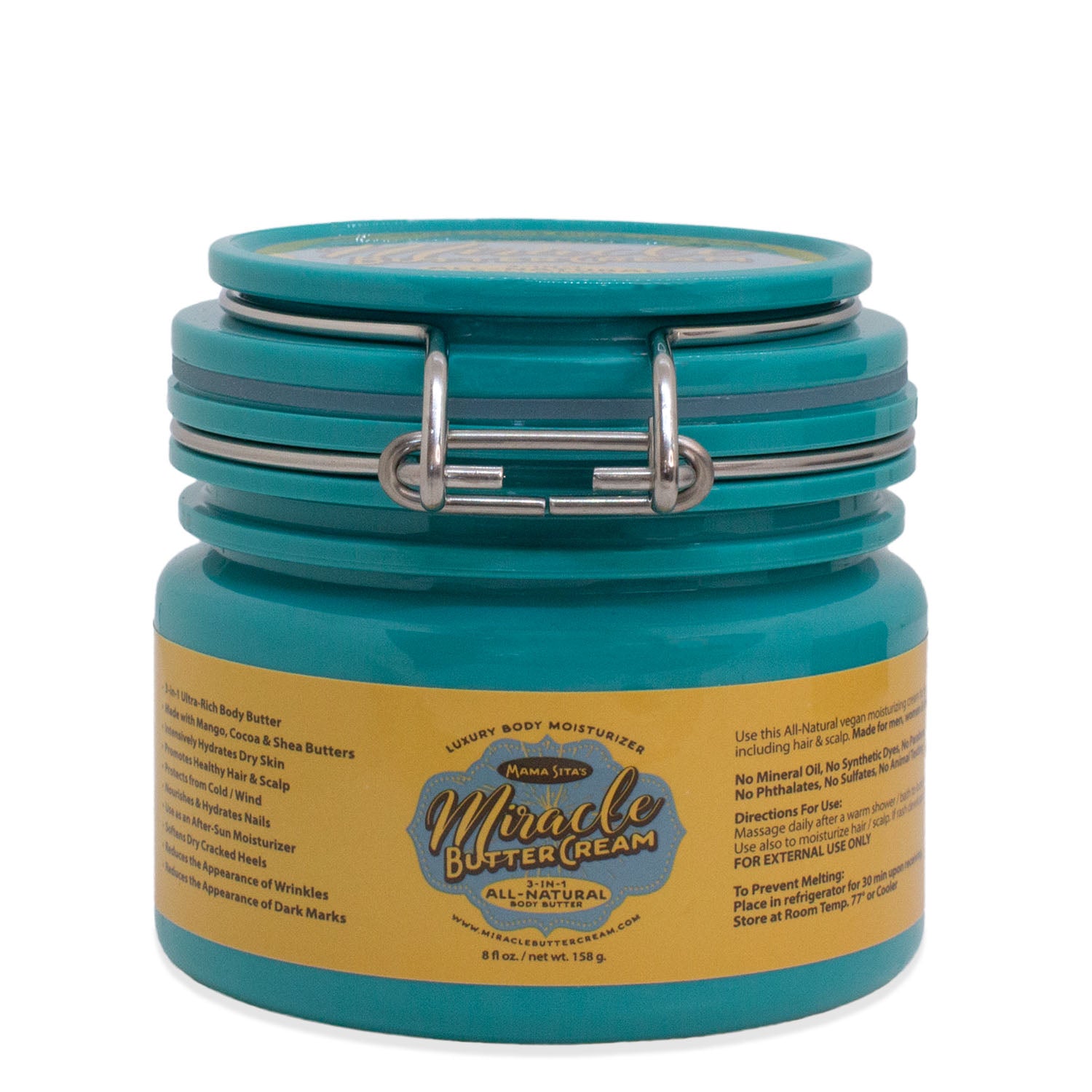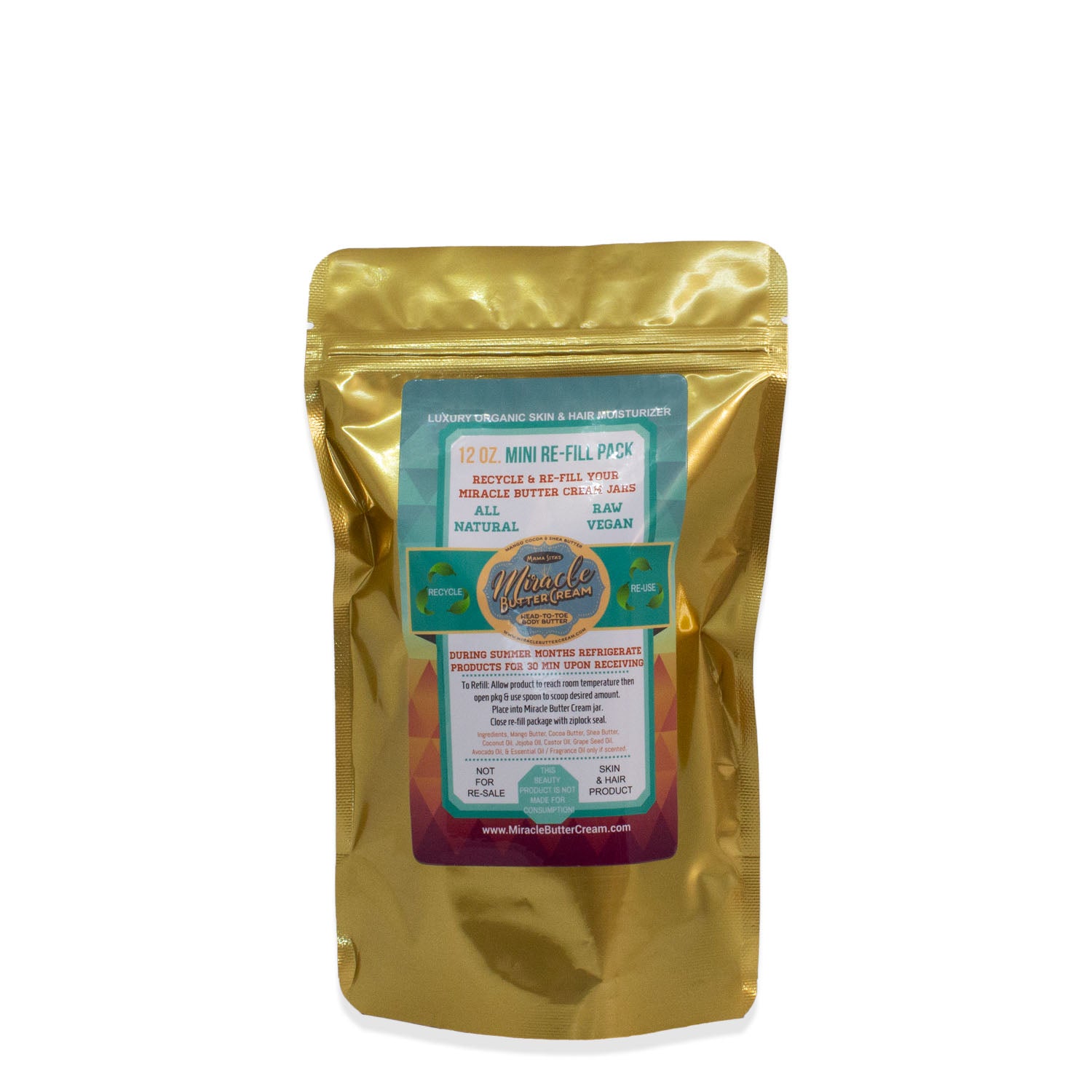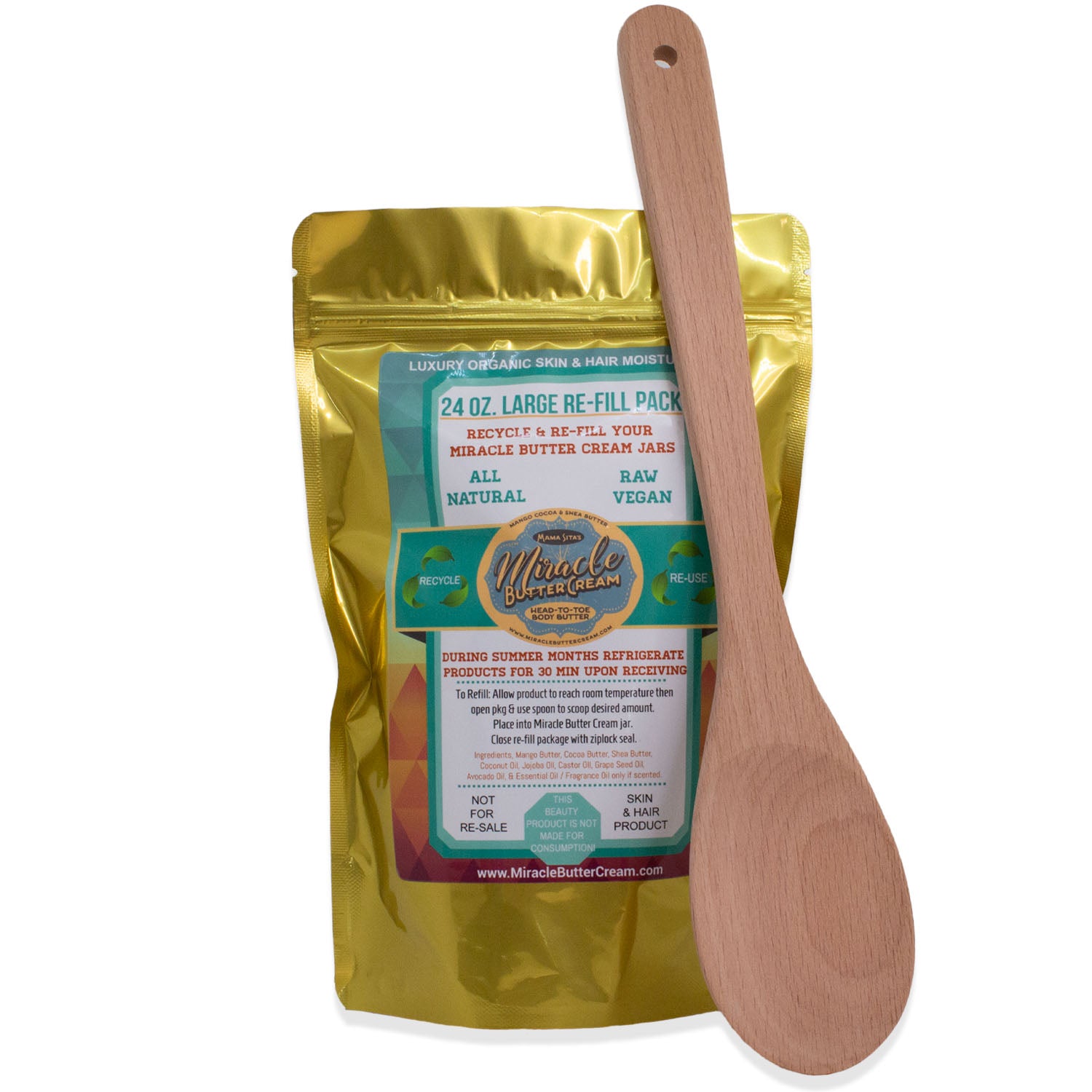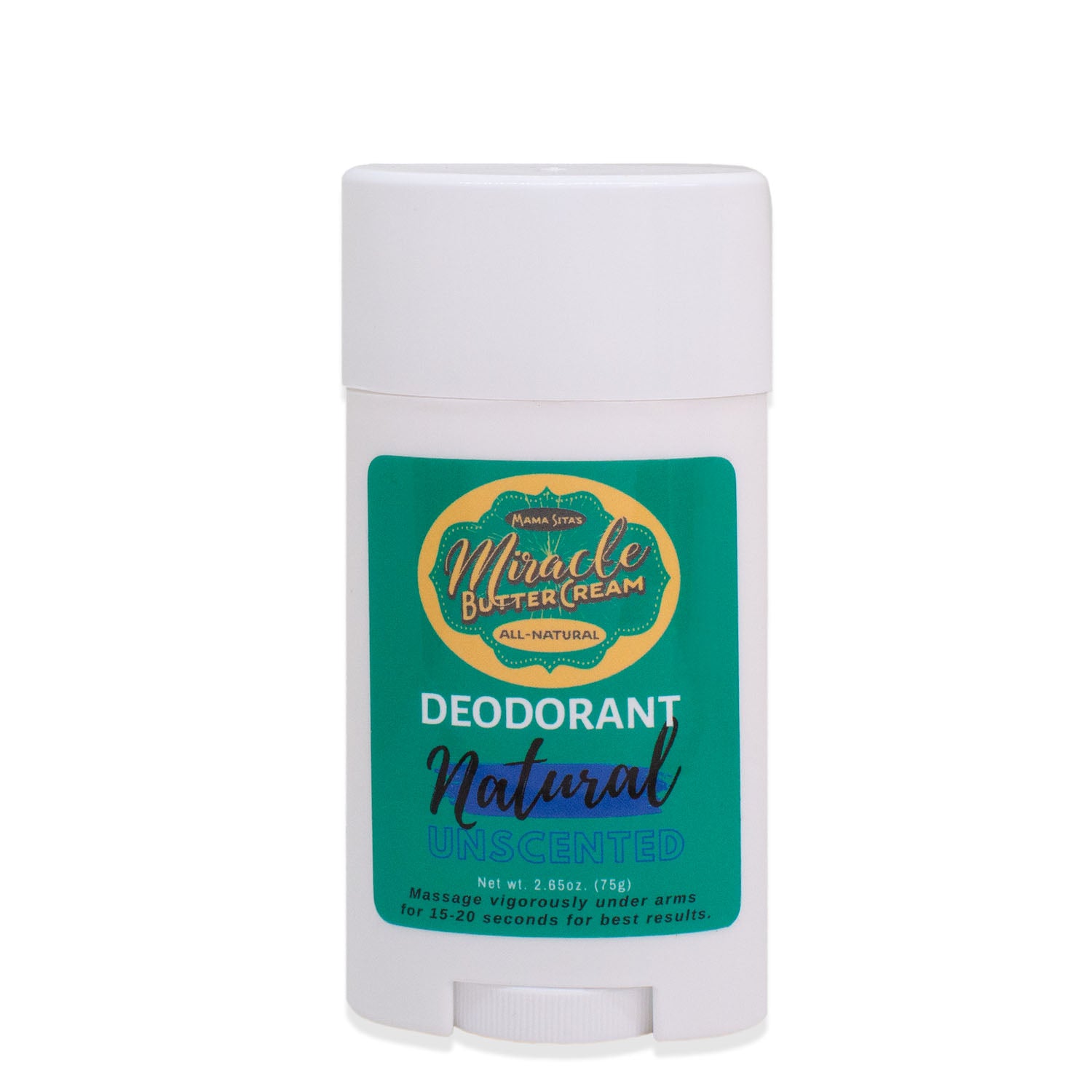 Customer Reviews
11/27/2023
Regina G.

United States
I recommend this product
Miracle butter cream. Peach mango
I love it, especially this fragrance! Would buy again!!!
10/24/2023
Lynette R.

United States
I recommend this product
Simply The Best
I'm loving my "Miracle butter Cream"… I'm about to buy a larger container.
08/23/2023
Oksana T.

United States
I recommend this product
Great for Sensitive Skin!
The unscented miracle butter cream was the first product I tried and I loved it! My baby has sensitive skin and it keeps him moisturized all day with no irritation! I love the texture of the cream, it's pretty light weight and not greasy. You only need a little bit at a time to get the job done and it lasts a long time. I love it!
08/22/2023
daphne j.

United States
I recommend this product
Miracle butter cream
I love how it makes my skin feels
Guarantees
PLANT BASED

100% made with cocoa, mango, shea butters and premium oils.

RATED #1

Best Skin Care Products with no parabens, fillers, water, alcohol, or preservatives!

A SCENT FOR EVERYONE

We know you'll find your favorite with or variety of scents

PRIORITY SHIPPING

Receive butter in 2 -3 days wrapped special to keep your product cool.
FAQs
What are the key ingredients in Miracle Butter Cream?

Miracle Butter Cream stands out from typical Shea Butter products. We incorporate three key ingredients: MANGO BUTTER, COCOA BUTTER, and SHEA BUTTER, combining their nourishing qualities. Unlike many body butters that contain minimal butter& and lots of fillers, our formula prioritizes these natural butters. We use a cold-press process without heat.
Will this butter help fade darks spots?

Our pure butters can absolutely fade dark marks with regular use. We use the highest quality organic butter and oils. No water, alcohol, or chemical fillers. You get the pure, concentrated ingredients. That's why our products work 🤗 Enjoy.
Will the Hair Growth formula help my hair grow?

Our hair growth formula promotes hair growth due to loss from many causes. Results vary b/c every individual is different. If the issue causing the loss is still present, the hair loss may continue. We do guarantee that our product contains 100% natural ingredients known to stimulate & regrow hair that has fallen from follicles that remain alive.
Is Miracle Butter Cream Vegan?

Meet our superstar "MIRACLE BUTTER CREAM". Crafted with care, this raw-vegan body butter comes in 17 tempting scents. It's not just any body butter - it's your VIP ticket to skin bliss, starring cocoa, mango & shea butters. Ready for the miracle? Dive in!