4oz. Miracle Butter Cream
Regular price

Sale price

$20.00 USD
4oz. All-Natural. Hydrating. Luxurious.

Our vegan body butter is made with the "cream of the crop" of raw ingredients, giving your skin a heavenly boost of hydration! Smooth it on your hair, face, and body for a refreshed, revitalized appearance. This moisturizing blend of mango, shea, and cocoa butters spreads on silky-smooth, absorbs quickly and helps you keep that smooth skin texture for up to 24 hours. No more flaky skin - a teensy bit is all you need! Regain that beautiful, glossy allure!
Proven to produce amazing results for those suffering from dry skin or eczema.
♦ WE SHIP YEAR ROUND ♦
Check out the scent details and ingredients in the dropdown menus below and make your selection up-top, then add to cart!  
Recommended for men, women & children 2 years+
Unscented/ Fragrance Free is recommended for babies and those with sensitive skin or eczema.  
No matter the season, you can trust that our Miracle Butter Cream will be available year-round — unlike our competitors!
Once these jars are empty, grab a 12 or 24oz. refill pack and get a BIG return on your investment - not to mention that you'll be helping to save our planet!
ADDITIONAL SCENTS

All scents are recommended for men, women & children 2 years+

MOROCCAN SUN - Top tantalizing notes of pistachio, a sugary heart of jasmine with a touch of vanilla, and a woody base of musk, amber, and sandalwood. Soft and chic, Moroccan Sun is a polished scent for guys and gals alike! (TOP SELLER!)

MANGO PEACH SUNRISE - For those who adore fragrant aromas, this effervescent medley starts with a delightful combination of mango and peach. Sun-kissed and warm, base notes of sandalwood and petitgrain lend a mellow charm to this invigorating ambrosia.

BLACK CHERRY WOODS - Sweet black cherry punctuated by a whisper of Citrus. Lustrous Amber, Sugar, and Vanilla form a mesmerizing base, and Musk & Freesia grace the scent with an earthy elegance. (Unisex)

AMBER - Basks in a blend of Pachouli, Sandalwood & Lemon, creating a comfy & cozy atmosphere. The perfect unisex scent, this top seller is a must-have!

WHITE TEA - Enjoy the crisp, refreshing notes of Bergamot, Lavender, Mandarin, Thyme, Ginger, & Lemon - a clean unisex scent both men & women adore!

LAVENDER BABY - Experience the tranquil scent of Pure Lavender, with a hint of baby freshness, to instantly soothe and relax! Feel your worries melt away and drift off into a peaceful slumber with these calming aromas. (Unisex)

PURE LAVENDER - Relish in the POWER of Pure Lavender essential oil for calming and easing you into a deep restful sleep! Feel the tension from your day melt away and find total relaxation with every inhale of this aromatic essential oil.

ROSE WATER - Enhance your experience of a blooming rose garden with this light, fresh, and clean scent. It opens with hints of green leaves, lemon, and spice. Subtle hints of violet then lift the natural rose essence at the heart. End the journey with honey and sandalwood, creating an earthy and sweet finish.

HONEY GINGER - An alluring blend of spice & sugar, epitomized by natural Essential Oils Ginger, Cedar-wood, Geranium & Patchouli. This irresistible fragrance is both refreshing & appealing. (Unisex)

GRAPEFRUIT LEMONADE - A tantalizing twosome of Grapefruit, Lemongrass, + Lemon Essential Oils! Refresh + rejuvenate your senses with this crisp, bright scent that everyone will enjoy!

LEMON GRASS - A vibrant blend of citrusy Lemons and sweet, fresh Lemongrass! Boasting the benefit of Lemon Essential Oil for reducing hyper-pigmentation, this scent is also known to naturally repel mosquitos.

VANILLA - Sweet, creamy vanilla lives up to its name. Don't blame us if you're suddenly craving dessert! (Unisex)


ALMOND MILK & HONEY - A velvety fusion of sweet almond + delectable cream & honey, making this scent an ideal everyday companion for gents or ladies. Luxurious & sugary with an opulent almond undertone. (Unisex)

ALPINE BREEZE - An aromatic FRESH blend of bergamot, cedar-wood, lemon, lavender, mandarin orange, jasmine, and amber. Refresh your mind and reflect with this sumptuous, unisex scent!

AQUA CLEAN - Mesmerizes with top notes of zesty lemon, bright orange, and fresh ozone. Its heart of briny sea salt and delicate jasmine is balanced by a woody blend of powdery violet and warm cedar. A favorite amongst men - and everyone else!

UNSCENTED/FRAGRANCE FREE - 100% All Natural. Free of fragrance. Perfectly formulated to be gentle and safe when used on children, those with allergies, eczema, and psoriasis, or as a cream for the face or eyes.
Ingredients

Miracle Butter Cream Ingredients: Mango Butter, Cocoa Butter and Shea Butter, Coconut Oil, Jojoba Oil, Avocado Oil, Castor Oil and Grape Seed Oil. 

Luxury Oil Ingredients: Non-GMO Vitamin E Oil, Argan Oil, Marula Oil, Jojoba Oil, Avocado Oil, Abyssinian Oil, Castor Oil, Apricot Oil & Grape Seed Oil.
Ingredient Benefits

SIGNATURE MIRACLE BUTTER CREAM

Mango Butter, Cocoa Butter, Shea Butter, Coconut Oil, Jojoba Oil, Avocado Oil, Castor Oil, Grape seed Oil & Essential Oils &/or Fragrance. Nature's purest vitamin-rich premium ingredients from around the world are cold pressed together to help you achieve healthy, youthful hydrated skin. 

MANGO BUTTER contains high levels of antioxidants, Vitamin A, C & E. Vitamins A & C promote hair growth, while Mango Butter helps to soothe sunburn, frostbite, skin rash, eczema, insect bites & poison ivy. The fatty acids in Mango Butter help to reduce the appearance of wrinkles, acne & hydrates dry skin.

SHEA BUTTER is rich in Vitamins A, E & F. With high levels of cinnamic acid, it's a natural sunscreen, offering UV protection (SPF 6). Also an anti-inflammatory & excellent for treating acne & scars, Psoriasis & Eczema, while infusing the skin with essential fatty acids & nutrients that promote collagen production & help reduce the appearance of wrinkles. Provides moisture to damaged hair & contains Oleic, Steric Palmitic & Linolenic acids which help prevent dryness.

COCOA BUTTER aids in preventing stretch marks & reducing the occurrence of wrinkles. Keeps skin soft & supple while helping to fade scars. Contains antioxidant rich compounds that help neutralize free radicals throughout the body. Provides moisture & healthier hair follicle beds, which can reduce hair loss & prevent male pattern baldness. 

COCONUT OIL is the best treatment to heal and protect. Not only will it bring temporary relief to the skin, but will aid in healing and repairing. Coconut Oil has a lasting benefit that will bring back a youthful appearance. It aids in removing the outer layer of dead skin cells making your skin ultimately smoother.

 JOJOBA OIL promotes a glowing complexion. This natural oil mimics the body's own sebum (human skin oil), helping to prevent breakouts by restoring the skin's proper balance. Jojoba is more like a liquid wax rather than an actual oil. Its anti-inflammatory properties help to alleviate aches & pains.

AVOCADO OIL is rich in Vitamin A, B, D, E & Oleic Acid, which is an unsaturated fat.  Avocado oil contains regenerative properties that help to soften & revitalize dry, aging skin penetrating deeper than any known plant or animal oil. This enables it to transport nutrient rich essentials through the outer epidermis of the skin & into the dermis for an increased effectiveness. It stimulates collagen metabolism to slow visible signs of aging. With strong UV absorption properties, it helps regenerate connective skin tissue & inhibits bacteria growth.

CASTOR OIL can be used to help treat skin diseases & is effective in the treatment of Arthritis, Gout, & Rheumatism because of its unique ability to penetrate the skin so easily. This oil also contains germicidal, disinfectant, & insecticidal properties (Ricinoleic & Undecylenic acids) which are helpful in treating microbial & fungal infections. 

GRAPE SEED OIL has antimicrobial properties, which make it a great treatment for acne outbreaks. This oil helps the Vitamin E & C in your skin work more efficiently by attacking bacteria that can get deep into your pores causing breakouts. Grapeseed oil also contains a powerful antioxidant called "Proanthocyanidin" which helps even out skin tone when used consistently, while helping to protect your skin from harmful UV rays.  

Our signature Miracle Butter Cream contains 3 butters (Mango Butter, Cocoa Butter, & Shea Butter) & each ingredient has been hand-measured & cold pressed (never heat processed) with 5 natural oils to produce the creamy & nourishing product that your skin will love. 

♦ No added fragrances are used in the unscented fragrance-free products. ♦
Share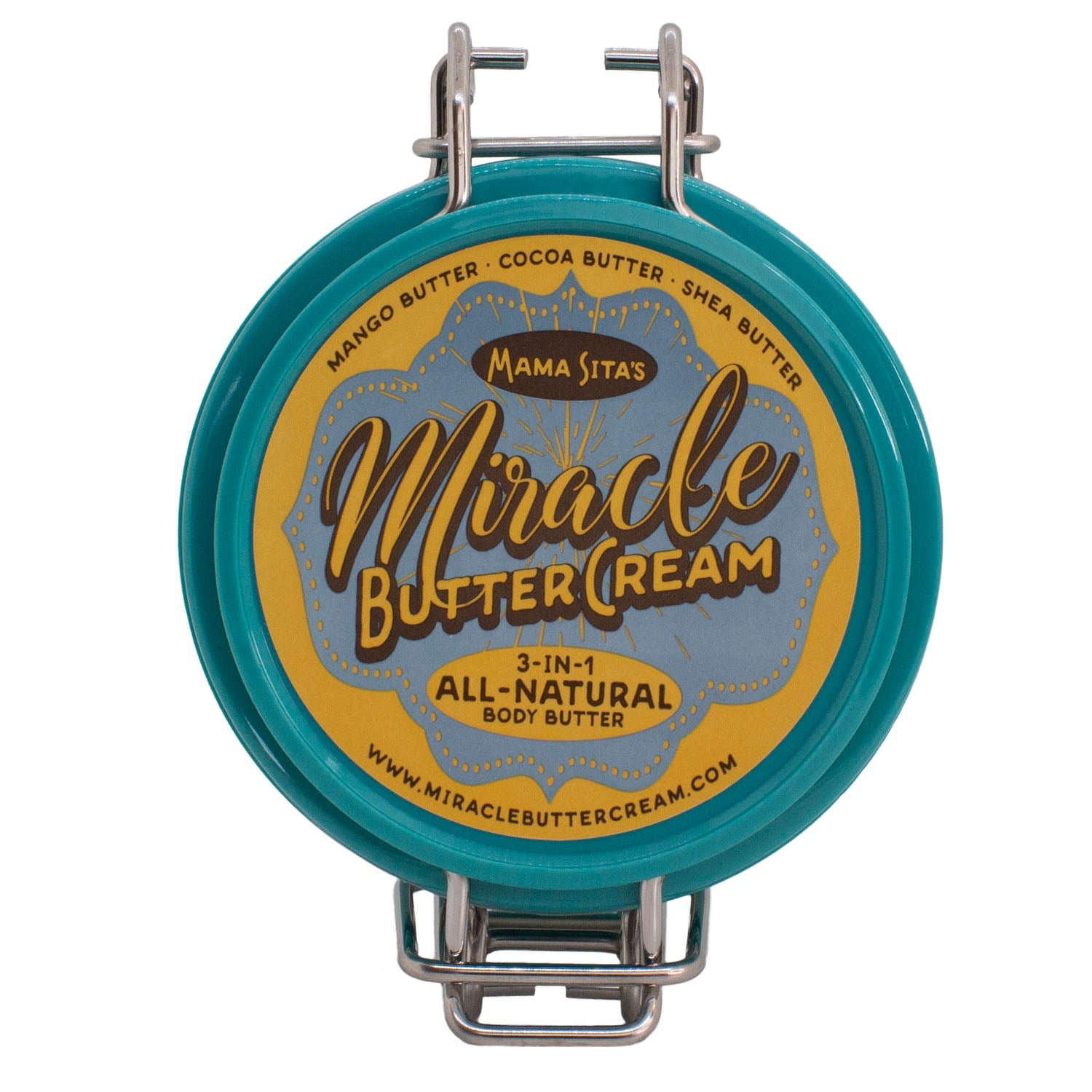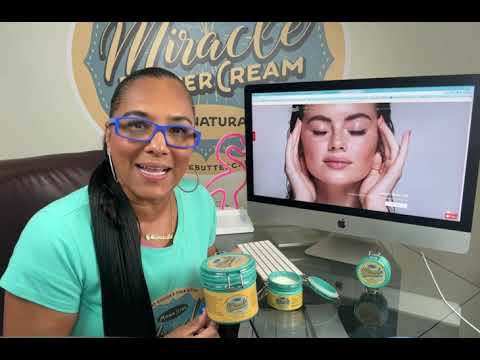 Customer Reviews
11/27/2023
Chrystal J.

United States
11/25/2023
Tamika

United States
Love everything about Miracle Butter Cream
11/18/2023
Christine B.

United States
I recommend this product
Miracle Butter cream
Love this cream, I don't have to wear perfume anymore. I took advantage of the buy 3 get 3 free to give away as Christmas gifts.
11/15/2023
Meki G.

United States
I recommend this product
The amazing White Tea Butter Cream
I love love my purchase. I'm a returning customer and I'm never disappointed. I receive a lot of compliments on the scent. ☺️ White Tea will always be my go to.
Guarantees
PLANT BASED

100% made with cocoa, mango, shea butters and premium oils.

RATED #1

Best Skin Care Products with no parabens, fillers, water, alcohol, or preservatives!

A SCENT FOR EVERYONE

We know you'll find your favorite with or variety of scents.

PRIORITY SHIPPING

Receive butter in 2 -3 days wrapped special to keep your product cool.
FAQs
What scent is most popular?

For women & men, the best-sellers are Moroccan Sun, Lavender-Baby, Grapefruit-Lemonade, & White Tea. Other popular scents include Mango-Tango, BlackCherry Woods, & LemonGrass. Pure Lavender and Rose Water are great choices if you prefer floral scents. Men love Moroccan Sun, White Tea, Amber, Grapefruit Lemonade, and Aqua Clean. Most scents are unisex.
Can I use Miracle Butter Cream on my hair and skin?

Our all-natural moisturizers are made for skin & hair + can be used interchangeably on wet/dry hair & for moisturizing the whole body. We recommend "unscented" for use on the face, where the skin is most sensitive. We also carry a peppermint/rosemary Hair Growth Formula that's highly recommended & produces amazing results for hair loss or thinning hair.
Will the hair butter growth formula help my hair grow?

Our hair growth formula promotes hair growth due to loss from many causes. Results vary b/c every individual is different. If the issue causing the loss is still present, the hair loss may continue. We do guarantee that our product contains 100% natural ingredients known to stimulate & regrow hair that has fallen from follicles that remain alive.
Why is Miracle Butter Cream considered 3-in-1 body butter?

Miracle Butter Cream stands out from typical Shea Butter products. We incorporate three key ingredients: MANGO BUTTER, COCOA BUTTER, and SHEA BUTTER, combining their nourishing qualities. Unlike many body butters that contain minimal butter& and lots of fillers, our formula prioritizes these natural butters. We use a cold-press process without heat.